Chiara Bertoglio
There are no translations available.
Klavir
Chiara Bertoglio was born in Turin in 1983, and began her piano education in 1986. She studied with Maria Rezzo, Ilonka Deckers, Emmy Henz-Diémand, Paul Badura Skoda, Sergio Perticaroli, Eugenio Bagnoli and Konstantin Bogino. In 1999 she graduated at Turin Conservatory with the highest score, with distinction and with honours. At the age of 17 she obtained the Swiss Diploma of "Virtuosité" with honours, followed in 2003 by the highest Italian degree (Accademia di Santa Cecilia in Rome), with distinction. She was the youngest woman ever to obtain this degree. In 2004 she was awarded the Fellowship at Trinity College London and a Master's degree in 20th-century Musicology at the University of Rome. In 2006 she obtained an MPhil in Musicology at the University of Venice with distinction. In 2012 she obtained a PhD in Music Performance Practice at the University of Birmingham (UK). She also obtained a Master's Degree in Theology at the University of Rome, with distinction, in 2008, and an MA in Systematic Theology (University of Nottingham, 2016), with distinction. She took part to piano and chamber music master classes given by A. Lonquich, E. Henz-Diémand, K. Bogino, A. Ciccolini, C. Zacharias, M. Voskressenskij, L. Fleisher and P. Badura-Skoda.
Following her first piano recital, at the age of 8, Chiara Bertoglio performed extensively in Europe, USA and Middle East, in venues including the Concertgebouw in Amsterdam, London's Royal Academy (Messiaen Festival 2008) and the Royal College of Music, Salzburg (Mozarteum), Warsaw (Chopin Institute), Rome (Academy of S. Cecilia, Rome Philharmonic, Vatican City etc.), Florence (Maggio Musicale Fiorentino), Montepulciano ("Cantiere"), Perugia (Sagra Musicale Umbra), Mantova (Trame Sonore), Cervo (Festival), Palermo (Politeama), Turin (including MITO Settembre Musica, Unione Musicale, Polincontri Classica), Milan (Società dei Concerti, Conservatory etc.), and festivals including "Festival Mozart" in Rovereto, "Opera Barga", "Imago Sloveniae", "Wörthersee Classics" etc.
In 2005 her performance of a Mozart Piano Concerto at Carnegie Hall, with Leon Fleisher and the Curtis Chamber Orchestra, was greeted by The New York Times with words of appraisal. She performed in Italy, France, United Kingdom, Germany, Mexico, Switzerland, Austria, Poland, Israel, Denmark, Norway. The Netherlands, Slovenia, Montenegro, with live and recorded broadcasts on radio and TV (including RAI, Canale 5, Radio3, Radio Vaticana, ORF, AVRO Klassiek, Polish and Slovenian Radio and TV, Sat2000 etc.).
Following her debut as a soloist with orchestra, at the age of eight and with Ferdinand Leitner, she performed solo concertos in Italy, Germany, The Netherlands, Denmark, Norway, Austria and Switzerland, with, among the others, Rome Symphony Orchestra, European Union Chamber Orchestra, Curtis Chamber Orchestra, Orchestra Filarmonica Italiana, Aargauer Symphonie Orchester, GAMS Ensemble, Ensemble Le Musiche, Orchestra Sinfonica Giovanile del Piemonte and many others, with conductors such as Francesco La Vecchia, Claudio Maria Micheli , Andrea Oddone etc.
She was awarded the First Prize at numerous competitions, including Muzio Clementi – Kawai, Franz Schubert, Schenk-Stiftung 2000, Forum pianistico internazionale di Chioggia 2003, XIII Concorso Pianistico Internazionale "Vanna Spadafora" and many others, including the "2000 Best Italian Graduate of the Year". She was also awarded the "Orpheus" and "Bruson" medals for her artistic accomplishment; in 2016, she was awarded the Prize of the Pontifical Academies (Holy See) for her artistic merits.
She recorded many CDs; one of them was published by Panorama (two Mozart Piano Concertos for the 2006 celebrations with the Italian Philharmonic Orchestra), and anotherby Brilliant Classics (Respighi's Toccata for solo piano and orchestra with Rome Symphony Orchestra). Further two albums were published by "Velut Luna" (Schubert's complete Impromptus, and "Mors&Vita", with works by Mussorgskij and Messiaen, both issued in 2012). Upcoming projects include a multi-CD set on Bach and Italy, for Da Vinci Osaka Records, the first volume of which has been issued in 2018.
She is an appreciated chamber music partner; among the others, she played with Konstantin Bogino, Marco Rizzi, Claudio Ronco, Elena Denisova, Cristiano Gualco, Giovanni Ricciardi, The Gustav Mahler Ensemble etc.
Following her first book on musicology, about Mozart's piano and opera music (Voi suonate, amici cari, Marco Valerio, 2005), other volumes appeared for Effatà, including Musica, maschere e viandanti (2008, about Schubert and Schumann's philosophy), Logos e Musica (2009, about the Christ in selected musical works), Per Sorella Musica (2009, about the Canticle of the Sun in 20th-century music), Through Music to Truth (2016); her most recent monograph, a 800-page book on music and the sixteenth-century Reformations (Reforming Music) has been published in 2017 by De Gruyter and won the 2018 RefoRC Book Award.
She wrote musicology articles that were published by "Early Music", "Musica e Storia", "AAA-TAC", "Atti dell'Istituto Veneto di Scienze, Lettere ed Arti", "Divus Thomas", "British Postgraduate Musicology", "TRANS", "Archivio Teologico Torinese", "Quaderni del Centro di Richerche Storiche di Rovigno", "Reportata", "Logoi", "Tolkien Studies". An essay by her was included in the Schnittke Anniversary Collection ("Schnittke-Studien"). She authored several lemmas for the Encyclopedia of the Bible and its Reception (De Gruyter).
She presented papers at many international conferences of musicology, including the "Purcell, Haendel, Haydn and Mendelssohn" conference in Oxford, the Messiaen festival at the Royal Academy of London and many others. She lectured for the University of Turin, at the University of Birmingham, and for other higher education institutes in Italy and abroad.
She was invited as a Guest Professor of piano at the International Festival of Maribor (Slovenia, 2006-08). Since 2007 she regularly lectures at the Summer School of the "Studio Filosofico Domenicano" University. She teaches at several State Conservatories in Italy (Turin, Milan, Bologna, Perugia, Novara, Lucca).
Marco Alesi
Klavir
Marco Alesi - born in Milan - received the piano diploma of excellent studies at the conservatory "G. Verdi" in Milan. His teachers were prof. G. Marchi and maestro P. Rattalino. He studied and visited masterclasses of the greatest teachers: Aldo Ciccolini, R. Risaliti, L. Hoffmann, S. Dorensky, V. Margulis, A. Lonquich, F. Scala and N. Flores. Accepted at the prestigious University Mozarteum Salzburg, he obtained the academic title of "Magister der Künste" (Master of Arts) in 2002 under the tutelage of professors A. Kontarski and C. Tanski. This is how Professor Claudius Tanski describes his student: "Marco Alesi is a unique artist with an interesting repertoire that he performs with extraordinary talent. Listening to him is always a triumph." His musical training has allowed him to embark on an exciting career that has lead him around the world: South-America and across Europe, including Peru, Italy, Germany, Austria, Poland, and Lithuania – where he was the first Italian pianist to premiere well-known Lithuanian composer M.K. Čiurlionis. He played breathtaking performances with numerous orchestras worldwide: collaborating with "The National orchestra of RAI" of Torino, "The Milano classical orchestra", the orchestra "Sinfonica Giovanile Fiaminga", the chamber orchestra "CIS" of University Mozarteum Salzburg, "The Salzburg Philharmonic" (Großes Festspielhaus) and the National symphony orchestra of Peru "OSN". Marco Alesi is proud and honored having an intensively creative collaboration with one of the most relevant composers of our time: A. Müllenbach - formerly director of the Mozarteum "Sommer Akademie" - which lead to the world premiere of "Streams" (a trio for piano, violin and contrabass) in Salzburg. In 2003 the artist utilized his musical expertise to found the "alesiEnsemblesalzburg": presenting repertoire ranging from solo to chamber music to a wider public, regularly performing in the concerts season "Amici della Musica" (Friends of Music) in Salzburg. He has gained many years of experience as professor for piano in music schools and high schools in Austria and Italy. Presently, he teaches piano and Lied accompaniment and engages as correpetitor at the University of Passau (Bavaria, Germany).
Tatiana Šverko
There are no translations available.
Klavir i klavirski duo
Pijanistica Tatiana Šverko rođena je u Puli. Školovala se u klasi prof. K. Kirac na srednjoj muzičkoj školi I. M. Ronjgov u Puli, u klasi prof. G.Lovata na konzervatoriju B. Marcello u Veneciji. Njeni profesori bili su P.Rattalino, T. Zelikmann, V. Tropp, G. Specchi i G. Lovato (na muzičkoj akademiji u Portogruaru), J. Zlatar (na Muzičkoj akademiji u Zagrebu), a nakon završenog studija upisala se na magisterij iz metodike klavira na ljubljanskoj Akademiji za glasbo . Nastupala je u Hrvatskoj, Sloveniji, Italiji,Mađarskoj i Njemačkoj. Svirala je s raznim orkestrima kao što su "L'Estro armonico" pod vodstvom E.Mabilia, orkestar HNK Rijeka pod vodstvom D.Modrušana, "Città di Trieste" pod vodstvom C.Semeraroa, s "Orchesterverainigung Freyung" u Njemačkoj (dir.E.Sagmeister) te kao čembalistica u baroknom sastavu "Istarski solisti". U komornoj glazbi nastupa četverorucno sa pijanistima L. Angelini (Rim) i A. Čuić (Pula, godine 2003 snimile su CD), no isto tako u drugim kombinacijama sa glazbenicima kao što su G. Blasco, R. Stojnić, S. Stell, A.Musizza, C.Kobal, A.Bossi, E.Matijašič, M.Prizzon, D.Del Monaco, G.Fonzari, B.Vatovec. Nastupala je sa gudačkim kvartetom "Malpera" (Zagreb), član je Alpe Adria Consort-a (Muggia), Basler Kammer Ensamble Vivaldi-Švicarska i osnivač je "Camerate polensis". Od 1997.god. kao klavirski pedagog surađuje na "International Master Class-Estate Musica Festival-Hortus Niger" u Brtonigli. Snimala je uživo za TV Koper-Capodistria te za HRT-Radio Pulu, i 2009. vodila je emisiju "Pola più-Iz čarobnog svijeta lirike". Pedagoškim radom bavi se od 1994.godine. Podučava u glazbenim školama u Puli, Brtonigli i Rovinju. Dobitnica je nagrada: "Rovere d'Oro" (S. Bartolomeo al Mare / Imperia), "Paul Harris" (Verbania), "Istria Nobilissima" (Rijeka). Član je Hrvatskog društva glazbenih umjetnika. Niz godina posvečuje se istraživanju i promicanju istarske glazbene riznice tako da je sudjelovala na Kongresima posvećenim A.Smaregli, L.Dallapiccoli, S.Zlatiću i N.Milottiju. Ideatorica je i umjetnička voditeljica projekta "Arena International" Glazbene radionice u Puli.
Nicola Mansutti
There are no translations available.
Nicola Mansutti
Dopo gli studi musicali presso il Conservatorio "J.Tomadini" di Udine si è perfezionato con il m° Fister (Klagenfurt), il m° Volochine e la m° Berinskaja (Portogruaro-VE),il m° Bogdanovich, il m° G.Guglielmo (spalla Orchestra della " Fenice" e Accademia di S.Cecilia), il m° Koch (spalla Orchestra Filarmonica del Lussemurgo) presso il Conservatorio del Lussemburgo, il m°Alessandro Moccia (spalla Orchestra degli Champs Elysées - Parigi), il m° Rabaglia (Trio di Parma), il m° R.Baldini (Hochschule di Lipsia). Ha coltivato l'interesse per l'analisi e la composizione seguendo i corsi tenuti dal m° Zanettovich. Ha approfondito aspetti di tecnica e prassi esecutiva antica frequentando seminari e corsi, in particolare per il violino barocco col M° S.Montanari (Accademia Bizantina), con il M° G. Fava (Sonatori della Gioiosa Marca) e per ensemble barocco con T. Koopman (Amsterdam Baroque Orchestra). Per diversi anni è stato i violinista della Venice Baroque Orchestra. Parallelmente, la dedizione allo studio del Novecento storico e alla musica contemporanea lo ha portato a prime esecuzioni di numerosi compositori tra i quali Solbiati, Silvestrini, Solares, Magnoni, Bloland, Sivilotti, Zanettovich, Miani, Perocco e molti altri.
In qualità di camerista ha suonato per numerose associazioni e rassegne in Italia ed all'estero, in alcune fra le più importanti sale da concerto nei seguenti Paesi : Austria (Musikverein, Konzerthaus - Vienna), Spagna (Teatro Nazionale - Madrid, Teatro Liceu - Barcellona), Francia (Salle Pleyel e Theatre des Champs Elysees - Parigi), Lussemburgo, Germania (Hercules Saal - Monaco), Olanda (Concertgebouw -Amsterdam),USA (Carnegie Hall- New York, Disney Hall- Los Angeles), Belgio, Slovenia (Zankariev Dom - Lubiana), Croazia, Polonia (Philarmonic Hall-Cracovia), Grecia (teatro Megaron-Atene), Repubblica Ceca (Rudolfinum - Praga), Albania, Romania, Canada, Tunisia , Egitto, Brasile (San Paolo-Memorial da America latina, Bélem-Teatro da Paz), Argentina (Teatro Coliseum - Buenos Aires), Cile, Uruguay (Teatro Solis - Montevideo), registrando per le etichette Agorà, Rivo Alto, RS, ArteSuono, Tau Kay, EpicMusic, Talents, Koinè records, Alfa Music, Rainbow Classics, Archiv, Deutsche Grammophone, SWR, RAI e Radio Televisione Catalana.
L' attenzione costante per la musica da camera l'ha portato a fondare il quartetto d'archi Pezzè, intitolato al compositore, didatta e musicologo Piero Pezzè, compiendo i propri studi di quartetto sotto la guida del m° F.Rossi (Quartetto italiano), del m° B. Baraz, del m° V. Berlinsky (Quartetto Borodin), del m° B. Giuranna e del Nuovo Quartetto Italiano , ottenendo riconoscimenti in concorsi nazionali e internazionali.
La sua natura eclettica l'ha portato a collaborare anche con "Cinemazero" di Pordenone e con la "Cineteca del Friuli" nella esecuzione dal vivo di alcune colonne sonore di film muti tra i quali
" La Sentinella della Patria "(primo film muto girato in FVG) pubblicato in CD/DVD e dal 2012 è il violinista del Quinteto Porteño, specializzato in tango-jazz (il recente disco "Rinascimento" distribuito da Egea ha riscosso un ottimo successo di critica e diffusione nelle radio nazionali). Sempre nell'ottica di conoscenza di nuovi linguaggi musicali ha partecipato a progetti con gruppi jazz e gospel fra i quali il "G.Venier Quartet", il "FVG Gospel Choir", registrando alcuni dischi (una fiaba musicale, il cd "Gorizia", ed altri).
Ha collaborato con numerosi ensemble e orchestre fra i quali, l'Orchestra del Teatro "G.Verdi" di Trieste, l'Orchestra Sinfonica del FVG, la FVG Mitteleuropa Orchestra, l'Orchestra d'Archi Italiana, l'Orchestra Filarmonica del FVG, l'Orchestra Barocca "Tiepolo", la Venice Baroque Orchestra, l'Ensemble Anticameraviglia, l'Accademia di S.Giorgio (VE), il NovArt Baroque Ensemble, l'Ensemble Mikrokosmos, il Nonetto "Stravinsky", l'Orchestra Filarmonia Veneta "G.F.Malipiero", La Nuova Orchestra "F.Busoni", l'Orchestra "Les musiciennes" del Lussemburgo.
Danijel Zeljak
There are no translations available.
VIOLINA
Rođen je 1972. u Varaždinu. U Zagrebu završava Srednju glazbenu školu. Studij violine i glazbene pedagogije nastavlja na Glazbenom sveučilištu u Grazu u klasi profesora Christosa Polyzoidesa i Anke Schittenhelm. Već tokom studija postaje član Grazer Symphonie Orchester kao i raznih komornih ansambla, između ostaloga i Deutsches Kammerorchester Frankfurt am Main. Mnogobrojne turneje odvele su ga do Teatra "Scala" u Milanu. Uz studij započinje i obuku učitelja violine po Suzuki glazbenoj metodi. Nakon studija u Austriji, 2002. osniva prvu Suzuki glazbenu školu u Zagrebu, izdaje stručnu literaturu na hrvatskom te organizira obuku novih Suzuki učitelja. 2010. odlazi u Njemačku kao učitelj violine i viole pri Suzuki - Musikkreis Ingolstadt. Od 2012. djeluje kao učitelj violine i viole pri Musikakademie Waldkirchen u Bavarskoj.
Natalija Čabrunić Pfeifer
VIOLINA, KOMORNA GLASBA IN ORKESTER
Violinistka Natalija Čabrunić Pfeifer je rojena leta 1977 u Pulju na Hrvaškem, kjer je leta 1995 na srednji glasbeni šoli Ivana Matetića Ronjgova maturirala violino ter leta 1996 glasbeno teoretski oddelek. Leta 1996 vpisuje študij violine na ljubljanski Akademiji za glasbo ter je leta 2001 uspešno diplomirala v razredu prof.Monike Skalar.
Od leta 2000 je redno zaposlena članica orkestra SNG Opere in baleta Ljubljana na prvih violinah in je leta 2011 pridobila naziv Priznanega orkestrskega glasbenika.
Že v zgodnji mladosti koncertira solistično kot tudi v komornih zasedbah doma in v tujini Igrala je v baročnem ansamblu Istrski solisti, Klavirski kvartet Pro et Contra, Duet flavta/violina Pas de deux, Godalni kvartet Rožmarin (koncerti v Sloveniji in Nemčiji) in Trio Entuziastik za katerega piše lastne priredbe. Bila je tudi članica komornih orkestrov Pro Arte, Slovenicum in Camerata Slovenica. Redno sodeluje z številnimi priznanimi orkestri doma in v tujini kot so Orkester Slovenske Filharmonije, Simfonični orkester RTV Slovenija, Orkester SNG Maribor, Orkester Sveučilišta Jurja Dobrile u Puli , Međunarodni orkestar Sarajevo kot tudi z drugimi orkestri s katerimi ima tudi koncerte v dobrodelne namene.
Solistično je nastopala z orkestrom SNG Opere in baleta Ljubljana ter z Pihalnim orkestrom Grada Pule.
Piše lastne priredbe za solo violino, duet glas/violina, duet violina/fagot, duet violina/viola, godalni trio ter klavirski trio (klavir,violina in flavta).
Snemala je glasbo za različne gledališke in lutkovne predstave, rock skupine kot tudi filme v Sloveniji in na Hrvaškem.
Večkratna je nagrajenka mednarodnega tekmovanja Istria Nobilissima na Reki. Leta 2000 je prejela II.nagrado, leta 2002 in 2004 pa posebno priznanje za najboljšo interpretacijo.
Izpopolnjevala se je na številnih mojstrskih tečajih pri svetovno znanih pedagogih in violinistih kot so Asja Koucher, Maja Dešpalj Begović , Stefan MIlenkovich...
Nastopala je kot solo violinistka na številnih pomembnih otvoritvah razstav znanih slikarjev kot so Vatroslav Kuliš, Josip Račić, Leo Junek ter na pesniških večerih znanih pesnikov. Pogosto igra kot solistka na podelitvah Prešernovih nagrad kot tudi drugih nagrad in diplom na ljubljanskih fakultetah.
Od leta 2004 do 2009 je poučevala violino na glasbeni šoli Frana Gerbiča v Cerknici. Entuziazem in velika ljubezen do učencev je bila ključna nit uspeha , njeni učenci so redno hodili na državna in mednarodna tekmovanja ter prejemali številne nagrade in priznanja. Leta 2007 je prejela od župana občine Cerknica Priznanje za uspešno mentorstvo v šolskem letu 2006/2007.
Leta 2008 je začela še eno čudovito življensko pot , katera poleg violine in njene družine dodatno izpolnjuje njeno srce in lahko njena osebnost pride popolnoma do izraza. Njen unikatni nakit in ročno dekorirane steklene vaze v doslej še neznani tehniki vsakič znova fascinirajo kot tudi navdušenja ponosnih lastnic njenega nakita se ne da opisati.
Aktivno govori slovenski, hrvaški, italijanski in angleški jezik ter je leta 2014 uspešno končala študij 3.stopnje hebrejskega jezika preko interneta na Akademiji za hebrejski jezik v Jeruzalemu. Pasivno govori francoski in španski jezik.
Natalija Čabrunić Pfeifer je umetnica, ki dokazuje s svojo kariero, značajem, močnim temperamentom, navdušenjem do življenja ter z ljubeznijo do svojega rojstnega kraja Pulja, kako ni težko uresničiti svoje želje, če se to zares z vsem srcem želi.
Ivan Šoštarič
Violončelo
Rojen 1969. leta, šolal in študiral v ljubljani na SGBŠ in Akademiji za glasbo v Ljubljani, v razredu prof. Cirila Škerjanca, kjer je dipomiral in opravil specialistični študij. Kot solist igral z Akademskim orkestrom in ork. SF. Igral v evropskem mladinskem ork. » Gustav Mahler« Snemal za RTV SLO in različne založbe. Od leta 1995 zaposlen kot namestnik vodje sekcije violončel v ork. SF. Deloval v različnih komornih skupinah: All Capone štrajh trio, Ljubljanski kvartet violončel, Kvartet Yost… Igral v različnih komornih orkestrih: Pro arte, Slovenski komorni ork., Slovenicum… Kot pedagog in mentor deloval na Glasbeni šoli Vič – Rudnik, ter evropskem mladinskem ork. YMSO. Napisal je tudi nekaj skladb za manjše zasedbe.
Dubravka Jančić
There are no translations available.
Violončelo i komorna glazba
Dubravka Jančić rođena je u Zagrebu 1973. godine. Maturirala je glasovir 1989. u klasi prof. Ž. Milić te violončelo 1992. u klasi prof. S. Prašelja nakon čega upisuje studij violončela na Muzičkoj akademiji Sveučilišta u  Zagrebu u klasi prof. Valtera Dešpalja. Za vrijeme studija član je mnogih komornih sastava, od dua s gitarom do okteta violončela (Cellomania). Aktivno sudjeluje na majstorskim tečajevima prof. D. Grigorjana, M. Steinkullera, V. Dešpalja. Pored toga deset godina nastupa u Hrvatskoj i inozemstvu kao član Baroknog tria IDA. Nakon diplome godinu dana radi na OGŠ Ivana Zajca, a od 1997. na GŠ Blagoja Berse gdje osim violončela predaje komornu glazbu te vodi gudački orkestar osnovne škole. Svoju ljubav prema komornom muziciranju prenosi na učenike kako u grupnoj nastavi tako i u individualnoj te s učenicima osvaja brojne nagrade na regionalnim i državnim natjecanjima i nastupa na svim važnim priredbama Škole. Od 2010. godine član je Klavirskog trija Bersa.
Claudio Gasparoni
There are no translations available.
Kontrabas i Viola da gamba
Claudio Gasparoni, kontrabasista, gambista i dirigent, vrlo je rano s odličnim uspijehom diplomirao na glazbenom konzervatoriju "B. Marcello" u Veneciji. Usavršavao se u komornoj glazbi i orkestralnoj tehnici. Bio je prvi kontrabasist u kazalištu "La Fenice" u Veneciji. Dirigent je i osnivač raznih komornih sastava i ansambla stare glazbe kao što su "I Musici della Serenissima", "Camerata Antiqua", "I Musici Veneti", te "I Cameristi di Venezia". Član je prestižnih orkestara: "I Virtuosi Italiani", "Accademia I Filarmonici", "Wiener Barocksolisten", "Capella Accademia Wien", "I Solisti Veneti". Godinama je sudjelovao na "Biennale Musica" u Veneciji i praizveo brojna djela suvremenih autora. Surađivao je s vrhunskim dirigentima i svirao sa priznatim umjetnicima. Sudjelovao je u produkcijama "New York City Ballet-a" i "Baleta 20.stoljeća" M. Bejarta. Oduvijek je bio zainteresiran za razne glazbene žanrove, tako da je radio s Corea-om, Bregovićem, Jarret-om, Centazzo-m, Battiato-m, i sudjelovao u raznim glazbeno-scenskim produkcijama. Snimao je za Deutsche Grammophon, Arcadia, EMI, Cactus, Verany, Claves, Fonit-Cetra te za razne TV i radio postaje. Smatraju ga jednim od najpoznatijih i najistaknutijih talijanskih kontrabasista i gambista. U dugogodišnjoj karijeri radio je na konzervatorijima u Udinama, Trstu, Vicenzi i Padovi. Docent je kontrabasa na konzervatoriju "B. Marcello" u Veneciji, te predaje na tečajevima usavršavanja, masterklasima i seminarima. Umjetnički je voditelj priznatih glazbenih Festivala u Italiji i inozemstvu. Dobitnik je mnogobrojnih nagrada i priznanja za dugogodišnju uspješnu umjetničku karijeru.
Žarko Ignjatović
There are no translations available.
Gitara i komorna glazba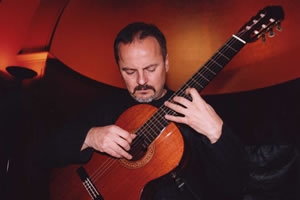 Gitarist Žarko Ignjatović rođen je 1961 g. u Puli, gdje je završio nižu i srednju glazbenu školu u klasi profesora Ivana Štekara i Marinka Opalića. Diplomirao je na Muzičkoj akademiji u Zagrebu u klasi prof. Darka Petrinjaka (1983) te na "Hochschule für Musik und darstellende Kunst" u Grazu u klasi prof. Marge Bäuml - Klasinc (1987). 1995 godine je završio trogodišnji postdiplomski studij na "Mozarteumu" u Salzburgu u klasi prof. Eliota Fiska. Aktivno je sudjelovao na brojnim seminarima svjetski znanih gitarista (Juliana Breama, Johna Williamsa, Davida Russella, Sergia i Odaira Assada...). Dobitnik je brojnih nagrada na nekadašnjim republičkim i saveznim takmičenjima. Od 1984 godine živi u Ljubljani. Na "Pedagoški fakulteti" u Mariboru i u "Srednji glasbeni in baletni šoli" u Ljubljani je zaposlen kao izvanredni profesor za gitaru i komornu glazbu. Pored solističkog angažmana nastupa i u raznim komornim kombinacijama. Redovno snima za radio i televiziju, do sada su mu objavljene dvije solističke i veći broj ploča komorne glazbe.
Alejandro Córdova
There are no translations available.
Gitara
Jedinstveni stil Alejandra Córdove bazira se na tehničkoj kontroli, darovitosti, ravnoteži, mirnoći, virtuoznosti, muzikalnosti i željom za znanjem te na senzibilitetu i iskustvu koje je stekao kao izvođač klasične glazbe na međunarodnoj sceni.
Jedan je od najvažnijih mladih meksičkih predstavnika klasične gitare na državnom i međunarodnom nivou.
Rođen u Córdobi (Meksiko) 1986. godine, započinje studij gitare kao učenik profesora Jesusa Peñe te nastavlja studij gitare i na fakultetu "Facultad de Musica de la Universidad Veracruzana", pod vodstvom priznatih profesora poput Consuelo Bolio, Massima Gatte i Alfreda Sancheza.
Usavršava se u međuvremenu u Pordenoneu, na Akademiji za gitaru "Francisco Tarrega" pod vodstvom profesora Paola Pegorara.
Magistrirao je na konzervatoriju "Jacopo Tomadini" u Udinama, pod vodstvom profesora Stefana Viole.
Bivši je član orkestra "Orquesta de Guitarras de la Secretaría de Educación y Cultura", s kojim je odradio brojne državne i međunarodne turneje, osnovanog od strane profesora Alfonsa Morene. Od brojnih koncerata orkestra ističu se oni na "St. Petersburg Palace" festivalu, u kazalistu muzeja "Hermitage" u Sankt Petersburgu, u Bijelom Salonu državnog muzeja u Petergofu i onaj u novgorodskom kazalištu.
Njegov je talent prepoznat od strane brojnih glazbenih kritičara i odradio je brojne solističke koncerte u Italiji, Španjolskoj, Grčkoj, Rusiji, Sjedinjenim Američkim Državama, Ujedinjenom Kraljevstvu, Kostarici i Meksiku.
Autor je dva nosača zvuka, od kojih je prvi snimljen u Londonu s Johnom Taylorom a drugi u Sevilji s diskografskom kućom "Contrastes records".
Redovito sudjeluje na najvažnijim festivalima i na državnim i međunarodnim natjecanjima.
Ima višegodišnje iskustvo u podučavanju; radio je četiri godine kao profesor gitare u školama za glazbeno obrazovanje "Luigi Bon" u mjestu Colugna di Tavagnacco i "Musica Mia" u mjestu Cividale dei Friuli. Tijekom 2016. godine radio je kao profesor gitare na fakultetu "Universidad Nacional Autonoma de México" u Ciudad de Méxicu i kao gostujući profesor gitare na Fakultetu u Oaxaci u Meksiku.
Najvažnija priznanja:
1) Prvo mjesto na međunarodnom natjecanju "Francisco Tarrega", Španjolska, rujan 2017.god.
2) Prvo mjesto na međunarodnom natjecanju u Culiacanu, Meksiko, ožujak 2017. god.
3) Drugo mjesto na međunarodnom natjecanju "Andrés Segovia" u Linaresu, Španjolska, studeni 2016. god.
4) Prvo mjesto na državnom natjecanju u Saltillu, Meksiko, srpanj 2016. god.
5) Prvo mjesto i Nagrada publike na međinarodnom natjecanju "Miguel Llobet" u Barceloni, studeni 2013. god.
6) Drugo mjesto na međunarodnom natjecanju "Miguel Llobet" u Barceloni, studeni 2012. god.
7) Prvo mjesto i Nagrada publike na III. međunarodnom natjecanju u Sevilji, Španjolska, listopad 2012. god.
8) Prvo mjesto na II. međunarodnom natjecanju gitare "Gredos San Diego" u Madridu, Španjolska, ožujak 2012. god.
9) Treće mjesto na međunarodnom festivalu "Augustin Barrios", Sardinija, studeni 2011. god.
10) Treće mjesto na II. međunarodnom natjecanju u Sevilji, Španjolska, listopad 2011. god.
11) Prvo mjesto na XV. međunarodnom natjecanju gitare "Ciudad de Coria" u Corii, Španjolska, kolovoz 2011. god.
12) Treće mjesto na IV. na međunarodnom natjecanju u Culiacanu, Meksiko, ožujak 2011. god.
13) Prvo mjesto na menjunarodnom natjecanju "Stefano Strata" u Pisi, Italija, listopad 2010. god.
14) Prvo mjesto na državnom natjecanju u Parachu, Meksiko, kolovoz 2010. god.
15) Prvo mjesto na europskom natjecanju"Enrico Mercatali" (concertists cat.) u Gorizii, Italija, 2010. god.
16) Sudjeluje u finalu (natječući se protiv svih instrumenata) na međunarodnom natjecanju "Soroptimist International d'Italia"u Rimu, Italija, rujan 2009. god. Dobio je pozivnicu za sudjelovanje na natjecanju od samih organizatora.
17) Prvo mjesto na međunarodnom natjecanju "Julian Arcas" u Almeriji, Španjolska, lipanj 2009. god. Proglašen je najmlađim pobjednikom toga natjecanja.
18) Prvo mjesto na međunarodnom natjecanju "Giulio Rospigliosi" u Lamporecchiu, Italija, ožujak 2009. god.
19) Prvo mjesto i Nagrada publike na međunarodnom natjecanju "Region el condado" u Jaénu, Španjolska, ožujak 2009. god.
20) Prvo mjesto na državnom natjecanju "Festival Cultural Revueltas and First national Contest of Classical Guitar" u Durangu, Meksiko, listopad 2008. god.
21) Prvo mjesto na III. državnom natjecanju "Ramón Noble" u Pachuchi, Meksiko, rujan 2008. god.
22) Treće mjesto na III. međunarodnom natjecanju u Xalapi, Meksiko, travanj 2007. god.
23) Četvrto mjesto na europskom natjecanju klasične gitare "Enrico Mercatali" (concertists cat.) u Gorizii, Italija, svibanj 2006. god.
24) Prvo mjesto na europskom natjecanju klasične gitare "Enrico Mercatali" (u kategoriji mladih) u Gorizii, Italija, svibanj 2006 god.
25) Drugo mjesto na V. državnom natjecanju klasične gitare u Culiacanu, Meksiko, ožujak 2006. god.
26) Drugo mjesto na državnom natjecanju "Festival Internacional de Guitarras sin Fronteras" u Chichuahui, Meksiko, travanj 2005. god.
27) Prvo mjesto na I. međunarodnom festivalu i državnom natjecanju u gitari u Sonori, Meksiko, listopad 2004. god.
28) Treće mjesto na VII. međunarodnom festivalu i državnom natjecanju u gitari u Taxcu, Meksiko, srpanj 2004. god. 29) Prvo mjesto na državnom natjecanju gitare u Parachu, Meksiko, kolovoz 2003. god.
Romano Pucci
There are no translations available.
Romano Pucci
Diplomirao je u klasi profesora Silvija Clericija na Konzervatoriju Santa Cecilia u Rimu s najvišim ocijenama. 1980.god. osvojio je mjesto Prve Flaute na Međunarodnom natjecanju Orchestra della Radio Svizzera Italiana kao profinjeniji i svestrani virtuoz na flauti.
Priznati kompozitor Goffredo Petrassi nazvao ga je "Izuzetnim interpretom", a novine pišu o njemu kao o " ...čarobnoj flauti...".

Kao dugogodišnja Prva flauta u prestižnom Orkestru i Filharmoniji u Kazalištu Alla Scala u Milanu ordžao je mnogobrojne koncerte, opere i balete u najistaknutijim kazalištima svijeta, surađujući s vrhunskim dirigentima kao što su Muti, Abbado, Metha, Kleiber, Pretre, Maazel, Bernstein, Sinopoli, Baremboim, Chailly.
Pozivan je redovito kao solist na suradnju s cijenjenim ansamblima kao što je "Archi della Scala", a nedavno je održao koncert s poznatom sopranisticom  Mariellom Devia.
Sudjelovao je u različitim televizijskim i radio emisijama za RAI i druge međunarodne postaje: bio je glazbeni gost na važnim manifestacijama kao što su "Gran Galà – XLIV Maschera d'argento 1995" i "Telethon 1996".

Na dodjeli nagrade "Premio Nino Rota" (Rim 1997.), uz Oriellu Dorella prezentirao je poseban aranžman baleta "La Strada", a u ljeti 1998.god. održao je turneju po najpoznatijim sicilijanskim kazalištima, kao što su "Teatro Greco" (Taormina), "Teatro dei Templi" (Selinunte), u ulozi protagoniste uz Lucianu Savignano (obje prve ballerine Kazališta alla Scala).
Imao je glavnu glazbenu ulogu u nekoliko predstava za Piccolo Teatro u Milanu: "Lettere di Mozart alla Famiglia" (Mozartova pisma obitelji) i "...Il tormento gira intorno al cuore" s velikim glumcima kao što su Franca Nuti i Giancarlo Dettori.
Docent je pri "Accademia del Teatro alla Scala" i pozvan je da drži Master Classes u Italiji i inozemstvu.
Surađuje s "Teatro dell'Opera di Roma" kao prva flauta.

www.ensembleclassica.it
Monica Giust
There are no translations available.
Monica Giust
She graduated in clarinet in 2005, at the "C. Pollini "of Padua, under the guidance of Maestro Marco Milelli and Maestro Luca Lucchetta. She specialized in Clarinet under the guidance of the Masters Fabrizio Meloni, Vincenzo Paci, John de Beer, Jozef Kotar, Robert Stamitz and Joseph Balogh, and in Bass Clarinet with the Masters Paolo De Gaspari, Luca Lucchetta, Pedro Rubio and Stefano Cardo. She attended, at the "A. Pedrollo "of Vicenza, the two-year specialized course in Clarinet under the guidance of Maestro Stefania Belotti and the Saxophone course with Maestro Mauro Ribichini. She has worked as a clarinetist with the Piccola Orchestra del Duomo San Marco, with the Orchestra of the Concentus Musicus Patavinus of Padua and with the Orchestra Gruppo d'Archi Veneto; She collaborates regularly with the Maniago Philharmonic and with the "In Musica Gaudium" Orchestra. From 2010 she plays in the ensemble "andantecontrio" with Lucia Zigoni (viola / vocals) and Stefano Scarpel (piano), perfecting herself in Chamber Music with the Masters with G. Saccari, S. Redaelli, G. Gulli, N. Gardi. In 2014, with this training, he obtained the Diploma of Specialization in Chamber Music with Piano under the guidance of Maestro Bruno Canino at the Music School of Fiesole and with the Trio of Parma in Portogruaro. In 2017 she graduated in chamber music at the Scuola di Musica di Fiesole under the guidance of the Trio di Parma.
She is professor of clarinet and saxophone at the Musical Institute "Opitergium" of Oderzo (TV), at the School of Music of Follina (TV), at the Music School "Balbi" in Pieve di Soligo (TV) and at the School of Music of the Municipal Band "Albino Gagno" of Villorba (TV).
She attended various courses of Direction for Band: in Reggiolo (MO) under the guidance of Maestro Giuliano Moser, in Pordenone organized by the Provincial ANBIMA held by Maestro Lorenzo della Fonte and in Treviso organized by AMBAC with Maestro Daniele Carnevali. In 2016 she brilliantly concluded the "Three-Year Training Course for Masters and Band Directors" in Carlino (UD), organized by A.N.B.I.M.A. Regional of Friuli Venezia Giulia, under the guidance of Maestro Marco Somadossi. Currently she is attending High Specialization Courses, in Band Management, at ISEB (European Higher Band Institute) in Mezzocorona (TN) under the guidance of the Masters Andrea Loss, Josè Pascual Vilaplana and Alex Schilling.
Since September 2010 she has been M ° Director of the Municipal Band and the Youth Band "A. Gagno "of Villorba (TV), and Artistic Director of the entire Music School; since 2013 she has also taken over the management of the Follina Youth Band. She has participated in several national and international competitions with the Youth Band of Villorba, which in 2015 she was ranked 1st in the International Competition "Diapason d'Oro" in Pordenone and in 3rd place in the International Competition for young musicians "Città di Treviso "; in 2016 she led the two youths groups of Villorba and Follina, gathered in a single formation, to take 2nd place in the National Competition for Youth Bands "A Prima Vista" in Valdagno (VI) and a prestigious 3rd place in the International Competition for Youth Music Band bands in Udine, where she was also awarded the Best Director award; in 2018, again at the "Musicup" competition in Udine, she brought the renewed staff of the Youth Band back to the podium, in 3rd place in category A, which currently has about forty boys.
From 2016 she is a member of the Artistic Council of the Veneto Regional ANBIMA. From September 2017 she also directs the "Amici della Musica" Band Music Complex of Tamai di Brugnera (PN).
Alessandro Svab
There are no translations available.
Opera
Alessandro Svab rođen u Trstu, s tek 18 godina postaje članom teatra "Giuseppe Verdi" u svome gradu. Godine 1985. debitira u operi "Mozart i Salieri" Rimskij-Korsakova i nakon toga stječe titulu mastera pri akademiji Chigiana u Sieni i pohađa tečaj pjevanja  (projekt Mozart - Da Ponte) koji vodi maestro Claudio Desderi pri glazbenoj školi iz Fiesolea. Njegov se međunarodni debi dogodio 1990. godine na International Britten Festivalu u mjestu Aldeburgh (Velika Britanija). Tri godine kasnije pobjednik je natjecanja "Toti Dal Monte", a iste te godine debitira u milanskoj Scali u Spontinijevoj "Vestali" pod vodstvom maestra Riccarda Mutija te nastupa u svjetskoj praizvedbi "Tat'jane" A. Corghija u režiji Petera Steina. Potom slijede nastupi u "Lucreziji Borgia" G. Donizettija pod vodstvom maestra Renata Palumba, a u režiji Huga de Ane. Nastupao je u najpoznatijim svjetskim kazalištima kao što su: Teatro alla Scala i Arcimboldi iz Milana, Teatro dell'Opera, Accademia di Santa Cecilia, Terme di Caracalla i Parco della Musica (Rim), Teatro Massimo e di Verdura (Palermo), Teatro Comunale (Bologna), Regio (Parma), Bellini (Catania), Regio (Torino), Verdi (Trst), Filarmonico (Verona), Carlo Felice (Genova), a sudjelovao je i na festivalima u raznim mjestima: Aldeburgh, Wexford, Hollywood, Tokio, Osaka, Kyoto, Pariz, Berlin, Bilbao, Valencia, Lausanna...interpretirajući uloge protagonista kao što su: Leporello, Figaro, Sarastro, Timur, Silva, Attila, Banco, Oroveso, Bartolo, Don Basilio, Nick Shadow, Escamillo, Dulcamara. Brojni su bili dirigenti pod čijom je palicom nastupio: Ahronovich, Arena, Bartoletti, Bellugi, Campanella, Ferro, Gatti, Jacobs, Maag, Muti, Oren, Palumbo, Pidò, Ranzani, Renzetti, Santi, te redatelji Abbado, Bertman, Brockhaus, Carsen, Cavani, Cox, de Ana, Pier'Alli, Pizzi, Plaza, Ripa di Meana, Stein, Vick... Njegov repertoar ide od baroka do Novecenta, a sjetimo se nekih njegovih svjetskih premijera: Kralj Teodor u Veneciji (H. W. Henze), Tat'jana (A. Corghi), Il tempo sospeso del volo (N. Sani), Miracolo a Milano (G. Battistelli) te Il re nudo (L. Lombardi). Bogata koncertistička aktivnost obuhvaća djela kao što su Beethovenova Deveta simfonija i njegova Missa Solemnis, Petite Messe Solennelle G. Rossinija, Šoštakovičeva 14. simfonija, Verdijev Requiem te Stabat Mater A. Dvoráka. Snimao je za RAI, BBC, Medusu, Nuovu Eru, Dynamic i Naxos. Od 1995. godine podijeljen je između nastupa i pedagoške djelatnosti, odnosno održavanje tečajeva u Italiji, Sloveniji, Češkoj, te docent je i na Sichuan Conservatory of Music u Kini. Godine 2008. utemeljuje Accademia Lirica Santa Croce u Trstu, što je škola pjevanja gdje omogućava mladima da se usavrše u tome. Projekt "Ragazzi... all'opera" pokreće 2009. s ciljem da približi djeci i mladima klasičnu glazbu i operu. Ove, 2012. godine bilo je više od 3.000 sudionika ovoga projekta, i svatko od njih mogao je probati emocije nastupa s pjevačima akademije. U ožujku 2012. pokrenuo je novi projekt s ciljem promocije važnosti belcanta u svijetu, putujući Rusijom, gdje je pronašao talente koji sudjeluju u masterclassu o Mozartovom "Don Juanu". U travnju 2012. u kineskom gradu Chengdu, pri poznatom konzervatoriju Sichuan, jednom od najvećih na svijetu, upriličio je "Figarov pir" s kineskim i talijanskim pjevačima.
Maria Grazia Biancolin
There are no translations available.
SOLO Pjevanje
Sopranistica Maria Grazia Biancolin diplomirala je pjevanje na konzervatoriju "A.Steffani" – Castelfranco Veneto u klasi prof. P.Ferrarisa i M.Salimbenia, te klavir na konzervatoriju u Rovigu u klasi prof. G.Lovata. Kao solistica surađivala je sa zborom kazališta "La Fenice" iz Venecije i "Litta" iz Milana. Pjevala je u Mahlerovoj 4. simfoniji na prezentaciji knjige "Mahler" Q. Principa. Nastupa na koncertima samospjeva, komorne i duhovne glazbe u raznim gradovima Italije i inozemstva. U koncertnoj sezoni 1990-91. debitirala je u teatru "La Fenice" u operi "Lulu" A. Berga. Sudjelovala je u Glazbenoj radionici "Teatro musicale barocco" pri izvedbi opere "Medoro" u venecijanskom kazalištu "C.Goldoni". Godine 1991. učestvuje na Nacionalnom lirskom natjecanju i osvaja 4.mjesto, na natjecanju u Sutri (Viterbo) 1992. godine plasirala se u finale. Na Međunarodnoj akademiji "Musici Artis" nastupala je u ulozi Zarline u Mozartovom "Don Giovanni"-u. U suradnji sa Fondacijom Levi snimila je CD "Lipso"- Atto lirico -, uz pratnju orguljaša P.Sagrillija CD sa duhovnom glazbom, te CD sa glazbom kompozitora L.Grappasonna. Na glazbenom institutu "Opitergium" u Oderzu djeluje kao profesor pjevanja i klavira. Surađuje sa raznim orkestrima. 2002.godine je u bazilici Sv.Antona u Padovi sudjelovala u izvođenju oratorija "La gloria nascosta" M.Kolbea. Iste godine preuzima mjesto dirigenta zbora Opitergium Festivala u Oderzu.
Orietta Richter Šverko
There are no translations available.
Nastavnica glazbene kulture i talijanskog jezika, predavala je u vodnjanskoj Talijanskoj osnovnoj školi počevši od 1965. Diplomirala je muzikologiju i talijanski jezik pri ljubljanskom filozofskom fakultetu. Desetak je godina predavala glazbenu umjetnost u tadašnjoj Srednjoj talijanskoj školi (danas "Dante Alighieri"), te vodila je ženski zbor škole, i to vrlo uspješno. Vodila je nekoliko zborova, osnovnoškolski, minipjevače pulske Zajednice Talijana i od 1965. godine zbor Zajednice Talijana Vodnjan, mješoviti zbor Zajednice Talijana Vodnjan te već nekoliko godina ženski i mješoviti zbor Kulturno-umjetničkog društva "Lino Mariani" iz Pule. Sa zborovima je sudjelovala na brojnim nacionalnim i međunarodnim natjecanjima, za što je dobila priznanja za umjetničku vrijednost te prvu nagradu sa smotre zborova Talijanske unije za mješoviti zbor iz Vodnjana 1966.
Osim pedagoškim radom, bavi se i glazbenom kritikom (La Voce del Popolo) te muzikološkim istraživanjima (sudjelovala je na raznim simpozijima o najvećim istarskim skladateljima).
Brine se za muzikološki dio Arene International, glazbene radionice koje se održavaju još od 2002. pri pulskoj Zajednici Talijana.
Autorica je triju pjesmarica za talijanske škole iz Hrvatske i Slovenije te surađivala je u kreiranju programa za glazbeni odgoj za osnovne i srednje škole. Dobitnica je više priznanja za svoj pedagoški rad te didaktički je koordinator Centra za klasičnu glazbu "Luigi Dallapiccola" pri Talijanskoj uniji za pulsku sekciju, i to od njezina osnivanja 1991. godine.
Edoardo Milani
There are no translations available.
Flauta i suvremeni mediji
Edoardo Milani je studirao klavir i flautu pri Glazbenom konzervatoriju G.Tartini u Trstu. Nakon toga diplomirao je studij Glazbe i nove tehnologije te Kompoziciju elektronske glazbe. Stalno surađuje s nekoliko Radio-televizijskim postajama kao RTV Slovenija, RAI (Državna talijanska radio televizija) i RSR kao programer-režiser i glazbeni urednik. Djelovao je kao glazbeni pedagog u raznim privatnim glazbenim institucijama. Trenutno predaje pri Glazbenoj školi u Kopru. Snimio je nekoliko nosača zvuka sa svojom glazbom.

Jezici: talijanski (***), engleski (***), francuski (**), slovenski (*)


Umjetnička suradnja u Areni International 2015

1 – radionice komorne glazbe manjih ansambla mladih instrumentalista (Intonacija, dinamika, analiza partiture, interpretacija, teknika disanja, itd...)

2 – radionica kompozicije elektronske glazbe za instrumentaliste (početni niveau) *

3 – radionica kompozicije elektronske glazbe za instrumentaliste (napredni) *

*kako pojačati instrument, upravljanje efektime, akustične potrebe u koncertnom prostoru, softwer za komponiranje i za live electronics

4 – radionica za Video-music
[na kraju svake radionice predstaviti će se rad polaznika]

5 – analiza i interpretacija flautističkog repertoara (početnički i srednji niveau)

6 – suradnja u orkestru i u komornim ansamblima

7 – video –dokumentacija i postavljanje on line naših događanja




Kvartet flauta Bora
Kvartet flauta BORA je komorni ansambl osnovan 2011. godine. Sastavljaju ga flautisti Paula Benčić, Claudia Martorel, Micol Mechi i Edoardo Milani. Različiti studijski perkursus utjeće upravo i na njihov odabir repertoara koji je svestran ali dosljedan: od baroka pa do pop glazbe, kroz suvremenu glazbu i jazza. Cilj takve ponude je približiti publiku na susret s flautističkim kvartetom.
Naziv "Bora" ima više značaja: 4. slova kao i početna slova imena glazbenika, ime vjetra Bura (...na tal.bora) koje je karakteristično za geografsko podrijetlo glazbenika i koje se nadovezuje na vibraciju zraka u flauti.
Laboratorio di interpretazione musicale elettronica per strumentisti e compositori
Anche nella musica si parla sempre più spesso di realtà aumentata ovvero di sistemi che incrementano il livello percettivo di uno spettatore. E' sempre più importante perciò per lo strumentista contemporaneo esercitare una certa padronanza anche sulla tecnologia più semplice per essere in grado di accedere a nuove possibilità espressive.
In questo modulo verranno presentati i principali sistemi che permettono anche al musicista inesperto in campo informatico di sperimentare in modo semplice e creativo queste nuove possibilità sia dal punto di vista della prassi esecutiva che da quello dell'elaborazione del segnale in funzione della creazione artistica. I corsi individuali rivolti a qualsiasi livello verranno personalizzati in base alla creatività del candidato: performance live, improvvisazione, composizione musicale elettronica, interpretazione di opere elettroacustiche già esistenti per il proprio strumento.
Edoardo Milani ha studiato pianoforte, flauto presso il conservatorio G. Tartini di Trieste dove attualmente è iscritto al corso di Oboe. Diplomato in musica elettronica e composizione videomusicale presso lo stesso conservatorio, si occupa di produzione musicale e radiofonica. Compositore e arrangiatore ha una lunga esperienza anche come didatta avendo lavorato per varie istituzioni private e recentemente presso la scuola di musica di Capodistria. Oltre alle varie esperienze internazionali (Università Pompeu Fabra di Barcelona e Conservatoire national supérieur de musique et de dance di Lione) è stato direttore tecnico del festival di musica contemporanea "Luigi Nono".
Laura Mjeda Čuperjani
There are no translations available.
Kompozicija
Laura Mjeda Čuperjani (1971., Beograd) diplomirala je na Odsjeku za kompoziciju i orkestraciju na Muzičkoj akademiji u Beogradu, u klasi prof. Srđana Hofmana. Pedagoški rad započinje u Srednjoj glazbenoj školi "J. Slavenski" u Beogradu te kasnije na Muzičkoj akademiji u Beogradu. Od 2007. godine radi na Muzičkoj akademiji Sveučilišta Jurja Dobrile u Puli.
Njezin skladateljski opus obuhvaća djela za solo instrumente, komorne ansamble do orkestralnih djela i glazbe za kazališne predstave i multimedijalne projekte. Djela su joj izvođena kako u Hrvatskoj (Zagreb, Dubrovnik, Rijeka, Pula, Opatija, Poreč, Split, Daruvar, Varaždin) tako i u inozemstvu (Verona, Essen, Klingenthal, Gdansk, Mlawa, Pariz, Ljubljana, Ženeva, Moskva, Bari, Odessa, Washington, Beograd, Podgorica, Priština, Argjiro).
Sudjelovala je na mnogim manifestacijama i festivalima. Izlagala je na Tribini "Nova Djela" u organizaciji SOKOJ - Muzičkog informativnog centra Srbije u Beogradu 1998.godine, na Prvom međunarodnom simpoziju glazbenih pedagoga u Puli sa temom "Koncepcija nastave harmonije u obrazovanju glazbenih pedagoga" kao i na drugom znanstveno-umjetničkom skupu asistenata Sveučilišta Jurja Dobrile u Puli. Koautorica je udžbenika Harmonija na klaviru.
Dobitnica je nagrade "Vasilije Mokranjac" za skladbu Concerto za gitaru i komorni orkestar, posebnog priznanja za originalnu glazbu za koreo-projekt Masses/Gromade na Festivalu Mediadance International u Parizu i Rektorovog priznanja za ostvareni doprinos djelovanju i razvoju Sveučilišta J. Dobrile u Puli. Redovni je član Hrvatskog društva skladatelja i predstojnica odsjeka Glazbene pedagogije na Muzičkoj akademiji u Puli.